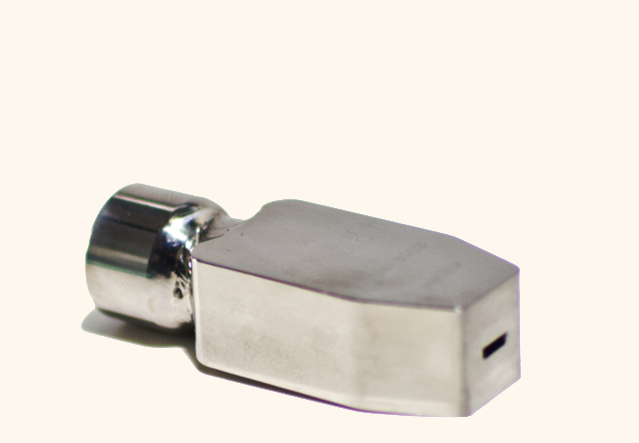 No Moving Parts
Bulletproof Design
Oscillating 0-Degree Jet
Reduced Sound & Vibration
2-Year Warranty
Our Products
OmniJet Nozzle
High pressure oscillating pressure washing nozzles with no moving parts. Long life and zero maintenance design.
OmniJet Nozzles are at the forefront of pressure washer tech. Constructed from a single piece of stainless steel with no moving parts, OmniJet Nozzles outperform rotary turbo nozzles both in power and lifespan. They require no maintenance, they don't suffer from jams, and they all come backed by an industry-leading 2-year warranty.
OmniJet's innovative use of fluid dynamics and unique internal geometry create an oscillating 30° sweeping jet spray pattern. This side-to-side oscillation is superior to the spray pattern of fan jet nozzles because it distributes the water better and it results in more efficient cleaning. The water droplets projected from an OmniJet Nozzle are larger than those seen in traditional nozzles. They land with more force and maintain a higher temperature for increased cleaning power, while also saving you time and money.
Superior Performance vs Rotary Nozzles
70% Lighter
Significantly Quieter
Greatly Reduced Vibration
Reduced Water Usage
Dynamic Cleaning
Up to 3200 PSI
30° Sweep Pattern
Stainless Steel Construction
Need More?
Our Products
Control and improve the microclimate for your herd.